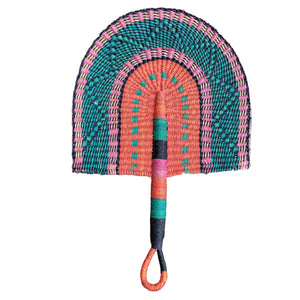 Hand-woven African bolga fan
Bolga fan - hand-woven fan
African straw fan from the Bolga region for interior decoration. New colors for these African fans woven from savannah grass.
They are hand-woven by groups of artisans (mainly women) from Ghana.
This fan will bring a colorful touch, a touch of nature and exoticism to your interior for an ethnic and bohemian chic decoration.
It is made entirely by hand with savannah grasses dyed with natural pigments.
It is also an object that will last over time and is biodegradable.
You can hang it on the wall, frame it or just put it in a window opening.
Sold individually.
Dimensions: diameter - base 25-26 cm, height 42 cm
Colors may vary slightly from photo.
weight 120 grams
'5 stars review from Rahmani'